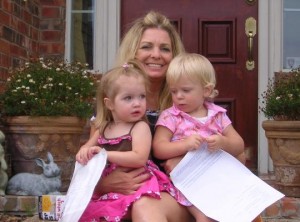 Mission Statement:
Since Carrie's House Preschool opened in 1993, its mission has been to provide a safe, fun and enriching environment for children and their families. We work to meet the needs of each child and the expectations of every family by providing a place in which the children can flourish and the family can feel confident in the knowledge that their children are safe, secure and happy.
The Story:
Carrie grew up the oldest of six children, where her care responsibilities first began. Helping with chores such as dishes and hanging laundry on the clothesline was a daily task. At age sixteen, she was delegated the responsibility to look after her brothers and sisters as she worked while her mom worked to put food on the table.
After marrying in 1981 and having three children, Carrie naturally loved to be an active part of her own children's lives. She stayed at home, volunteered at the schools, chaperoned on field trips and worked concession at football games. "I loved being a part of their school life and couldn't wait to hear about their day at school. 'Who'd you eat lunch with?', 'Who'd you play with?' They got annoyed at my questions after a while."
With more time on her hands with the kids in school, Carrie wished to find something to do. Working at the churches in the Mother's Day Out programs allowed her to get off in time to pick the children up from school. This worked great for a while, but after two years, she found herself catching too many viruses; one was so bad that she contemplated if child care was for her.
However, one day a friend called and asked Carrie if she would go pick up 13 month old her daughter from day care, saying that she's in the administers office crying and no one could console her. This continued several times, and each time, Carrie would pick her up. The day care said she cried so much that she was vomiting, however, she did not cry when Carrie was with her. Since this was seeming to become a common occurrence, which no parent would want their child to go through on a regular basis, Carrie's friend asked if she would take care of her daughter instead. Carrie agreed to care for her at $15.00 per week, full-time. "She was just the sweetest child to care for and I loved caring for her. This is where I felt different about child care and this is where my business began. I cared for her until she began kindergarten." Carrie then received a call from a lady about caring for her newborn. She was a single mom, working long hours at Parkland hospital in the neonatal unit. Carrie agreed to keep her baby as well and was now caring for two children while still being involved with her own. "I loved my job. The parents allowed me to take the girls to Walmart, garage sales or my school pick-up and drop-offs."
Then, the law changed. Carrie had to be listed or registered. Carrie's House became a registered daycare with the state in 1993. Her business took off; I received more customers and more children. Each year, the bar was raised and the law requirements became more extensive. In 2002, Carrie received an award for Registered Family Home of the year. In 2004, Carrie's House went from a registered home to a licensed home.
"It requires so much more to meet the state's requirements in training, home safety, paperwork for children, documentation on everything, misc. I continue to provide the best care I possibly can and meet the guidelines required. I am currently at over 1025 hours of training and maintain 31 hours of training every year; Maintain CPR and first aid certifications every two years; maintain criminal background checks with FBI fingerprinting. I am inspected every 10 months by licensing and every quarter by the USDA food program. Although a lot has changed over the years, I still find caring for children rewarding. It's more of a challenge with the requirements put on me by the state, but I try my best to meet all of these and also enjoy what I do in providing quality care and give parents a peace of mind that their child is safe and well cared for while they work."
Awards and Qualifications:
North Central Texas WorkForce
October 21, 2002
Carrie Gateff was recognized for her outstanding home daycare business at the North Central Texas Workforce Annual Awards, held September 24 at the American Airlines Conference Center, when she was given the Registered Family Home Childcare Provider of the Year Award. Gateff, who runs her daycare business out of her Frisco home, has had a Registered Family Home for the past nine years and has been a Child Care Services provider for more than two years.  She is a Texas Rising Star Provider, and holds and maintains the highest star status for Registered Family Homes from the State of Texas. WorkForce recognized Gateff's efforts of having attended several courses and classes above and beyond what the minimum standards and Texas Rising Star require, for working towards her Child Development Associate certificate, and for having integrated multicultural and anti-bias curriculum into her home daycare.
The foundation of her service is to provide quality childcare that encourages the children to explore and experiment with their natural environments.  She works with community resources to ensure that she offers safe quality care.
• Training of 31 hours each year with over 1025 total hours and college hours in Child Development
• First aid and CPR certified
• Trained in SIDS and shaken baby
FBI background check on all members of household
Training in Nutrition for the USDA food program